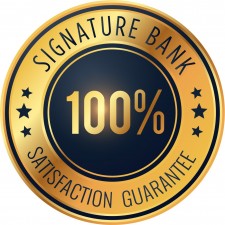 SANDY SPRINGS, Ga., August 9, 2018 (Newswire.com) - Always seeking ways to be distinctly different in the banking industry, Signature Bank is the only community bank headquartered in Sandy Springs and serving clients in the Metro Atlanta area since 2005. "With a dedication to client satisfaction and recognizing our client's loyalty as our driving force, the implementation of a 100% Satisfaction Guarantee was a no-brainer," says President & CEO, Freddie Deutsch. "Quite frankly, our client satisfaction pledge has been in place since our inception. We want to make it official and communicate our level of commitment to bring a distinctly different client experience to the banking relationship."
"It's simple really," says Managing Director of Marketing and Client Experience, Lawanna Saxon, "because our philosophy is simple. Service comes first, and if a client feels they've been slighted or inconvenienced beyond the normal course of business, we pledge to resolve the issue and the client receives a $100 gift card for their trouble. Full details of how the guarantee works are featured on Signature's Website at www.SignatureBankGA.com. Due to the many recent bank merger and takeover announcements, it's extremely likely that many clients of the acquired banks are beginning to experience the inconveniences associated with their bank being merged or bought. Part of that change may likely include losing their local banker, which could be detrimental to the service level they've become accustomed. Since bank products and features are fairly similar across the board, the service commitment remains the most important differentiator. We hope Metro Atlantans will think of Signature Bank when they contemplate the time to change banks, before the new bank management changes things for them."
We're communicating our level of commitment to bring a distinctly different client experience to the banking relationship.
About Signature Bank of Georgia
Established in 2005, Signature Bank of Georgia is the only locally owned and operated community bank headquartered within Sandy Springs, Georgia, one of the most affluent communities in the country. The bank offers a full range of business and consumer deposit products and loans in the metropolitan Atlanta area and is a preferred lender with the Small Business Administration. Giving back to the community is an integral part of the bank's mission. Signature Bank of Georgia is located at 6065 Roswell Road, between Hammond and Hilderbrand Drives. For more information, visit the bank's websites at signaturebankga.com or sbaloansatlanta.com.
Member FDIC l Equal Housing Lender
Source: Signature Bank of Georgia
Share: