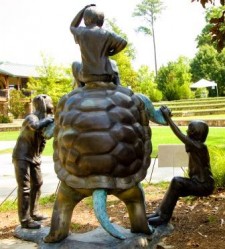 Sandy Springs, Georgia, July 18, 2017 (Newswire.com) - Continually striving to offer innovative, competitive and convenient products and services, today Signature Bank launched an enhancement that ensures clients don't have to wait to receive their debit card ever again.  Instant issuance of chip-enabled debit cards is now just a standard client delivery expectation at Signature Bank.
Clients receive their permanent EMV-chip debit cards on the spot with the added security of not having to worry about them getting lost or stolen in the mail. Additionally, clients can choose their unique debit card face from a selection of various images ranging from sports, to travel, to our beloved Sandy Springs turtle.
David Perlis, Managing Director of Retail Banking indicates, "Enhancing our product suite to be able to offer permanent EMV chip debit cards on the spot is such a convenience to our clients.  No more waiting and no more wondering if it's lost.  It gives our clients so much more control, much like our new Card Valet app service associated with debit cards.  Not only do clients receive their cards the day they open their account, they can also download the Card Valet app which offers the ability to turn their debit card off and on instantaneously.  With the fear of fraud and identity theft these days, this offers a highly valued peace of mind for our client.  Just another way Signature Bank strives to Make It Personal for our clients every day."
About Signature Bank of Georgia:
Established in 2005, Signature Bank of Georgia is the only locally owned and operated community bank headquartered in Sandy Springs, GA. The bank offers a full range of business and consumer deposit products and loans in the metropolitan Atlanta area and throughout the state of Georgia and is a preferred lender with the Small Business Administration. Giving back to the community is an integral part of the bank's mission.Signature Bank of Georgia is located at 6065 Roswell Road, between Hammond and Hilderbrand Drives.
For more information, visit the bank's website at SignatureBankGA.com or call Lawanna Saxon, Managing Director of Marketing at (404) 256-7702.
Source: Signature Bank of Georgia
Share: