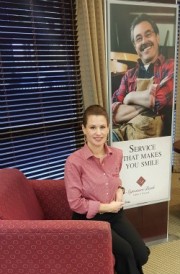 Makisha Gann Makes a Welcome Return to Signature Bank - Popular client service pro reunites with her favorite bank
Sandy Springs, Georgia, January 22, 2016 (Newswire.com) - Makisha Gann is back where it all started for her in community banking.
"I am so happy to be back at Signature Bank of Georgia," Gann said. "I worked for Signature from 2007-2013 and learned all the rudiments of truly personal service. After a brief stint at another bank, I am thrilled to be back as Assistant Financial Center Manager supporting Vitra Darden and the Financial Center Team. I 'm a proud resident of Sandy Springs and I can't wait to help our community and clients get the most out of their banking again."
"Makisha epitomizes our service philosophy of 'making it personal,' said Vitra Darden, the bank's Financial Center Manager. "She's smart, helpful, friendly and always ready to go out of her way to help. No wonder clients love her."
"Having the expertise of both Vitra and Makisha in the financial center will allow us to bring our special brand of personal banking to an even higher level of service," said Freddie Deutsch, the bank's president. "If you ever feel like you're being treated like a 'number' at your bank, I seriously encourage you to drop by our bank at 6065 Roswell Road and see what it's like to be treated like a person again. It's like a breath of fresh air for you and your finances."
About Signature Bank of Georgia
Established in 2005, Signature Bank of Georgia is the only locally owned and operated community bank headquartered in Sandy Springs, GA. The bank offers a full range of business and consumer deposit products and loans in the metropolitan Atlanta area and throughout the state of Georgia and is a preferred lender with the Small Business Administration. Giving back to the community is an integral part of the bank's mission.
Signature Bank of Georgia is located at 6065 Roswell Road, between Hammond and Hilderbrand drives .For more information, visit the bank's website at www.SignatureBankGA.com or call Freddie Deutsch at (770) 206-5360.  Please feel free to contact Makisha at 404-256-7700 or email her at mailto:mgann@signaturebankga.com
Member FDIC l Equal Housing Employee